Frisco Mountain - North Ridge, September 2014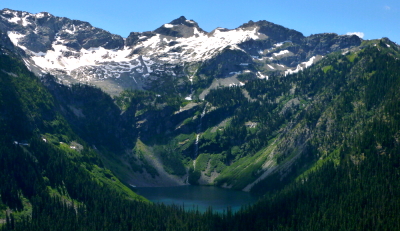 Our plan to climb Bacon Peak was thwarted just shy of the trailhead that morning due to bridge repairs, so Dan and I made an impromptu course correction for Frisco Mountain. Though it is not nearby or even in the same county for that matter, Frisco fit our backup needs simply because I had previously looked into it and felt confident I could successfully climb the peak with only my recollection to go on.
Despite the unexpected change of venue and late start, the quick approach combined with an aesthetic and exposed North Ridge scramble and easy Southeast Ridge descent all made for a worthwhile alternative. And the unbeatable scenery around Maple Pass and beyond was an added bonus! While we could have made it back to the parking lot shortly after dusk, we instead made camp on the ridge top near Maple Pass and enjoyed a pleasant evening under the stars. If you are in search of a short day-trip to satisfy an urge to scramble, then look no further!