Burroughs Mountain - Burroughs Mountain Trail, October 2014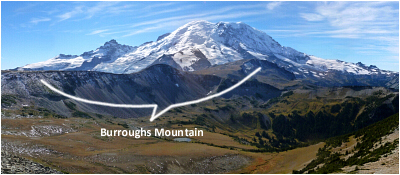 Of the developed visitor areas in Mount Rainier National Park, Sunrise is the highest that can be reached by vehicle and is perhaps also the most scenic. Unlike Paradise for instance, Sunrise is more set back from Mount Rainier and being that it's situated on the northeast side of the mountain means that on a clear day the enormous Emmons and Winthrop Glaciers are on full display. This and nearby features such as the Willis Wall Ice Cliff, Liberty Cap Glacier, and
Liberty Ridge
, which bisects the two encompasses the most dramatic and heavily glaciated faces of the mountain, or anywhere else in the lower 48 states for that matter.
Sunrise is not commonly used as a starting point for those seeking Rainier's summit, which explains why I've not come this way up until now. But having sighted a mostly snowbound Sunrise from nearby
Cowlitz Chimney
back in June, I felt that it was about time I had a look-see. Months went by and finally with nothing else to do on a sunny Friday in October, I made a beeline for Sunrise. With no more than a week or two before the Park Service would be shuttering the facilities in preparation for winter; I set out on the trail headed for Burroughs Mountain. Burroughs is the dominant, sprawling massif west of Sunrise, and at 7828-ft it's also the highest. An easy hike over a lunar-like tundra landscape leads to the summit of "3rd Burroughs" and from where a sensational view of the mighty Tahoma and her glaciers can be had.