Church Mountain - Church Mountain Trail, June 2016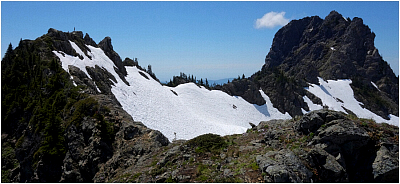 A mere 3,900 feet of gain and ~10 miles roundtrip, Church Mountain makes for a pleasant day in the hills. Its modest elevation (6,315ft), southern exposure and short class 3 - 4 summit ridge begets a venue ideal for spring or early summer. Scaling the exposed summit block also offers just enough excitement to satisfy a long neglected urge to scramble. For me in particular it was an opportunity to test the waters after far too many months of inactivity thanks to, among other things, a frustratingly slow to heal ankle ligament injury.
The well-traveled Church Mountain Trail leads to a false summit that was once the site of a fire lookout. The views from here are excellent and overlook a verdant valley traversed by the North Fork Nooksack River with Mounts Baker and Shuksan rising prominently to the southeast. Continuing on to the true summit, one is rewarded with outstanding 360-degree views that are difficult to leave behind.