Mount Carrie - South Route, July 2014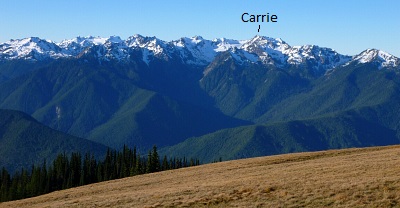 For those that have driven westbound on Hwy 101 and wondered about the glaciated peak that briefly comes into view as one rounds a bend sortly before crossing the Elwha River, wonder no more. Having glimpsed Mount Carrie and the adjacent Cat Peak from this very spot countless times while en route to other adventures on the Olympic Coast, the time had finally come for me to go in for a closer look.
Considered by many as the first and highest peak in the Bailey Range, Mount Carrie offers an outstanding perspective on the mighty
Olympus Massif
to the south as well as the deep trough formed by the Hoh River flowing from its headwaters at the foot of the Hoh Glacier for 56 meandering miles out to the Pacific Ocean. The hike up the Sol Duc River Valley to where I camped at Heart Lake is also incredibly scenic with old-growth forest, raging creeks and waterfalls crashing into gorges of polished basalt, and a thriving population of mountain goats to boot! Heart Lake is also part of the popular High Divide backpacking loop that passes through the Seven Lakes Basin, so unfortunately there's not much solitude here.
The route to Carrie is all trail to The Catwalk - a moderately exposed but easy ridge traverse across the Cat-Carrie saddle, followed by a steep grind up Carrie's SW Ridge and traverse of south-facing snow and scree slopes to the summit. Looking carefully to the northeast from the top, I saw flashes of sunlight reflecting off the cars on Hurricane Ridge Road and was reminded of my first Mount Carrie sighting from that location so many years ago. It was a scorching afternoon by the time I returned to the trailhead, making for an easy decision to pass on the Sol Duc "hotsprings" and instead cool off with a refreshing dip in Cresent Lake!