Hadley Peak - West Face via Skyline/Chowder Ridge, October 2015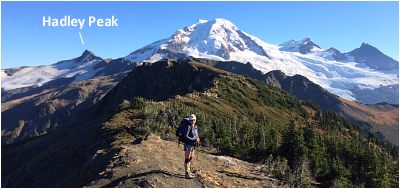 Hadley Peak is a low-prominence volcanic satellite located less than four miles as the crow flies north of Mount Baker. The highest point rising up from the subalpine tundra and sedimentary rocks at very end of Chowder Ridge, Hadley offers an outstanding up-close-and-personal panorama of Mount Baker's stunning north-side glaciers. In terms of its position, I would say that Hadley is to Mount Baker as
Third Burroughs Mountain
is to Mount Rainier. In other words, a peak somewhat set back from the mountain with a jaw dropping view of what could be considered the most dramatic and heavily glaciated faces of said mountain. Hadley is certainly all that, but as we discovered much of the appeal is also the approach via a lovely crest trail that goes along Skyline Ridge with sublime views in all directions.
The aesthetic Skyline Ridge Trail ends in a cirque of sorts, after which Chowder Ridge officially begins. A climber's path continues steeply upwards and takes on a noticeably different character from the easy trail hiking up to this point. Some class 3 with exposure along a sharp crest to a saddle, a steep gully and then some mildly exposed traversing on the right (south) side of the crest eventually leads back up to the crest itself, which can then be followed more or less the entire way over to Hadley Peak. Following an obvious path, we hiked below and around the peaklet immediately before Hadley and wore ourselves out kicking steps up loose scree and talus on the other side. On return we found it to be much more enjoyable to scramble directly over this peak – exposed class 3 - 4, but solid. As a rule of thumb, just stay on the crest no matter how unlikely it may seem from afar.
Finally, we scrambled up one of the obvious rotten gullies on the west face of Hadley, taking great care not to dislodge any rocks onto each other (helmets advised). We topped out to enjoy the fruits of our labor with just one other soul - Doug from Vancouver - on a surprisingly warm and pleasant mid-October day. A most enjoyable approach, top notch views, great camping, fun climbing and an outstanding setting throughout – Hadley Peak via Skyline Ridge is in my opinion deserving of 'classic' scramble status and one to add to a Top 10 list!