Mount Strachan - Christmas Gully, July 2018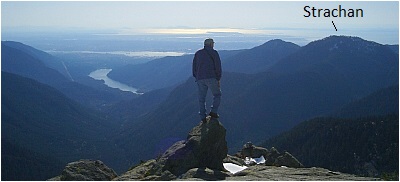 With just a day to burn and lacking the ambition for a particularly early start or lengthy drive, we opted to stay local and bag a peak in our backyard, so to speak. Located within in Cypress Provincial Park, and only a short hike from the top of Sky Chair, Mount Strachan is a great year-round objective with good views overlooking Howe Sound, Burrard Inlet, Vancouver and a swath of the Coast Mountains to the north. The true summit is a short jaunt beyond the Cypress Mountain ski resort boundary, an area that has unfortunately been the scene of far too many SAR incidences over the years.
Making a clockwise loop from the resort base area, we followed the Howe Sound Crest Trail to the base of the infamous Christmas Gully, which we ascended more or less to the saddle separating the north and south summits of Strachan. After tagging the true north summit, we continued over the south summit and then descended a rough trail just to the left of a designated run (Rip Cord) passing by the remains of a Royal Canadian Navy T-33 Jet, which crashed in 1963, along the way. We eventually popped out of the trees onto a ski run and made a beeline for the Crazy Raven to enjoy some adult refreshments and reflect on what amounted to a pleasant day of North Shore tramping.
Click
here
to view.