Brandywine Mountain - South Ridge, June 2018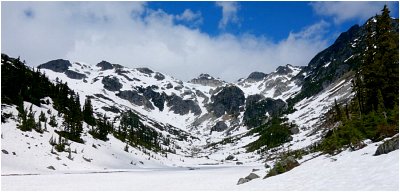 Overlooking the Cheakamus River Valley just southwest of Whistler, BC and directly opposite The Black Tusk lies Brandywine Mountain. It is one of the primary summits along the west side of the Callaghan Valley; an area I visited my very first time flying and riding with
Whistler Heli.
The upper 4WD trailhead provides quick and dirty access to the alpine basin and meadows just below the peak. Based on the discarded beer cans and random snowmobile parts littered about the snow in said basin, it appears to be a popular venue for the sledding crowd. With numerous couloirs descending from a small glacier high on the peak and wide-open slopes below, the sled-assisted ski touring possibilities would seem to be palatable for those suitably equipped.
From the meadows, it is a relatively short and easy slog and/or scramble to Brandywine's summit, whereupon the views are grand and dominated by a pair of nearby volcanic peaks - Mount Fee and Mount Cayley. Along with
The Black Tusk
, I believe these two are the next in a series of South Coast volcanos after
Mount Garibaldi
- all of which are part of the long chain of Pacific Northwest volcanos that extend as far south as
Lassen Peak
in Northern California. Something to contemplate while enjoying the long glissade back down the mountain!
Click
here
to view.