Mount Gandalf & Aragorn - South Route, August 2018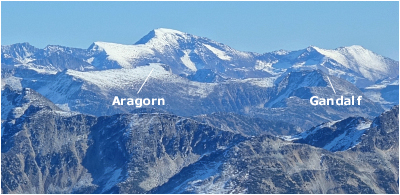 Akin to a remote group of peaks in the heart of the Buckindy Range of the North Cascades, the naming here follows an obvious Lord of the Rings theme. However, unlike my earlier exploits in which I only ever visited outliers of the range such as
Mount Chaval
,
Snowking Mountain
and Green Mountain, my feet (and hands) have touched the tippy tops of these two rock heaps. Well, almost. I chickened-out at the au cheval/arete section of Gandalf's exposed summit boulder a mere handful of feet below the summit proper. I suspect most that come this way are similarly repelled, no Orc's required. Fortunately, attaining the top of slightly higher Mount Aragorn is much less intimidating, albeit more difficult given that it's a boulder problem.
Anyway, the peaks here are predominantly composed of weathered granitic rock and have a distinctly "east-of-the-crest" feel. In fact, it reminds me a lot of the
Pasayten Wilderness
in the Northeastern Cascades of Washington. Except in place of long abandoned mining cabins, the VOC's lovely Brian Waddington Hut located on the west shore of Long Lake makes for a perfect base from which to explore the area. Nearby Mount Shadowfax also appears to be a popular objective, making for a neat trifecta easily doable in a day from the hut. Note that some maps have Gandalf and Shadowfax inadvertently switched. And beware the blood suckers along Phelix Creek Branch FSR, should you attempt to outrun them most of the way up to the trailhead as I did! Finally, a refreshing dip in nearby Birkenhead Lake and/or Anderson Lake is highly recommended following a sweaty, buggy couple days of rambling in the so-called Tolkien Group.
Click
here
to view.