Dickson Peak - South Ridge, July 2019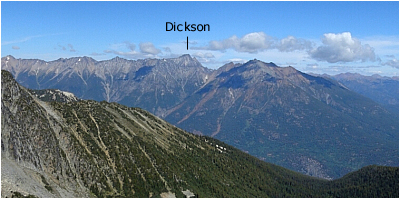 With the resumption of logging operations off the old Roxey Creek mining road, there was no time like the present to stage a smash-n-grab operation for Dickson Peak! Active logging brings roads that have been cleared, graded and generally improved for vehicular travel, in this case the high-clearance kind of travel. I've had my eye on Dickson for some time now and this was just the nudge I needed to once again make the long drive up and over Railroad Pass and down the Hurley FSR to the "town" of Goldbridge. Already familiar with this auto route thanks to previous climbs of
Mount Vayu
and
Mount Sloan
, Dickson itself represented a couple firsts for me, namely my first summit in the South Chilcotin Mountain Range. This is the farthest north I have ventured in the Coast Mountains of BC, which honestly isn't saying much considering the incredible vastness of the mountain ranges between here and Southeast Alaska.
But I digress. Leaving North Vancouver on a Friday afternoon, I drove to Goldbridge (or thereabouts), car camped and then completed the remaining drive and climb the following day. Active logging meant weekdays were a no-go, which to my dismay also meant that all the public camping spots at the tiny Gun Lake South Recreation Site were occupied by the time I showed up that evening. No worries though, as there are numerous (free) spots along the Slim Creek FSR to pull out and call it a night. The final few miles up Roxey Creek road was indeed in good shape, albeit steep and with good sized water bars. While others report to have driven up here in compact SUVs, I was happy to be behind the wheel of a proper 4x4. YMMV.
As far as the climbing route goes, Dickson isn't much more than a long and interminable plod up a seemingly endless talus slope. But all that comes after turning the corner at the head of the small but scenic Roxey Creek Valley. To get here entails about 30 minutes of hiking on an old road bookended by a couple cold creek fords. After the second ford, forget the confusing description in SSWBC and instead just pick up the path that starts from the back of the old cabin. You'll know you're on route when passing a small pit littered with discarded plastic bottles and other floating garbage. Following occasional flagging, the path soon exits the trees after which a swampy meadow and yet another creek crossing stands between you and what appears to be an old terminal moraine just beyond. Follow the path of least resistance up and over the moraine to eventually reach an unusual sand basin with towering peaks on all sides. Turning right, I continued up aiming for a gap with a waterfall which I passed on the left before finally gaining the upper basin. The remaining route to Dickson is obvious from here and as I stated previously entails a whole lot of boulder hopping.
But wait, there's a silver lining to all that talus tedium! As expected, the view from up top is nothing short of outstanding. I'll spare you the florid language this once and let the photos speak for themselves. The summit register contains entries from the late 50's which is remarkable when you stop to think about it. One entry by a Kent Heathershaw from Bremerton, WA got my attention for some reason. I inquired with my long-time climbing buddies stateside and it turns out 'ol Kent is still alive and well back in the Evergreen State! The 1972 Mountaineer Annual mentions him in a "Cascade Pass to Rainy Pass" traverse circa 1970. An impressive feat, particularly for that time considering that the North Cascades Highway hadn't officially opened yet. An interesting and unexpected bit of history for such an out of the way place, I think. Cheers to you Mr. Heathershaw and may climbers 60 years from now gaze out upon a vast sea of peaks and glaciers as we did and delight in the majesty of these mountains!
Click
here
to view.