Locomotive Mountain - South Ridge, August 2019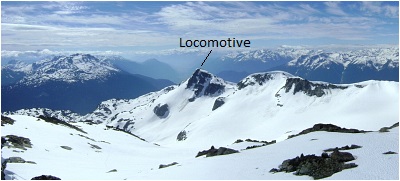 We intended on climbing Beaujolais and Mystery (aka Sockeye Horn), going so far as to drive up the forest road as far as we dared and completing the remaining miles to the trailhead, assuming one can call it that, on foot. Alas we could have spared ourselves the hassle, the needless "Canadian pinstriping" and sweaty FSR walk with overnight packs. And no, the grizzly paw imprints in the mud wasn't why we turned back either. Don't ask. Long story short, we eventually found ourselves at the Semaphore Lakes Trailhead with plans to climb Locomotive Mountain instead. Although easily doable in a day, the long drive from Vancouver and subsequent shenanigans had consumed most of the daylight hours. We resigned ourselves to making the short hike to the lakes and camping there that night, then climb the peak the following day returning home a day earlier than scheduled. All of which worked out just right considering the unexpected change in weather headed our way.
I've visited the Semaphore Lakes area previously, having climbed taller
Face Mountain
back in July 2010. Locomotive shares the same approach and is a shorter climb overall with better views. From the large moraine basin beneath the two peaks, we aimed for a talus saddle just left of the reddish cliffs directly beneath the objective. Continuing over the saddle, we followed the outlet stream upwards to reach a large, plain-like area which we crossed aiming for Locomotive's South Ridge directly ahead. Contouring around a small glacial lake not visible from below, we made the final push to the ridge crest. Traversing steep talus and hardpan made for tedious travel here. We took to the remaining snow on return and had a much easier time of it. Once on the broad South Ridge, we turned right and followed the path of least resistance to the rounded summit.
The unobstructed views of the Pemberton Valley did not disappoint and is probably the main reason for climbing Locomotive. I also enjoyed the different perspective on Train Glacier cradled in the cirque between Locomotive and Face. The blue skies we awoke to that morning had given way to clouds, which were building around us and starting to cling to the higher peaks. Rain certainly wasn't in the forecast before we left the house, but it sure seemed like it was coming. A flock of birds repeatedly circled us on the summit, reminding me of a similar experience I encountered on top of
Mount Baring
. Then, like today clouds had been building and rain was on the way. We decided not to push our luck and returned to camp after about 15 minutes up top, packed-up and hightailed it back to the truck. Got to within a couple miles of Pemberton before the first drops of rain hit the windshield. Phew...no rained-out weekend for Team Verdina. Been there done that!
Click
here
to view.