Mount Cheam - Mount Cheam Trail, October 2019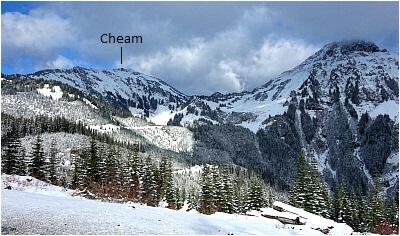 Capitalizing on a rare window of dry weather after what had been a rather cool and wet first few weeks of October, I made a dash for the Cheam Range's namesake peak. It isn't the highest-that distinction goes to
Welch Peak
-but it apparently boasts one of the best views of the Fraser Valley from its summit. I can't confirm nor deny this as I was engulfed in white-out while up there. More frustrating is the fact that the clouds parted shortly after my leaving the summit area, despite having shivered in the cold waiting around for things to improve. Seems to have happened a lot this year.
Cheam and neighboring Lady Peak benefit from relatively short approaches thanks to the trailhead being near treeline. Both could easily be climbed on a Summer afternoon, which would be far more enjoyable to the tedious post holing in fresh snow that I endured on this day. Unsure of how well the truck tires perform in snow, I parked at a small pullout a mile or two shy of the end and walked up from there. Last thing I needed was to slide off the road and go tumbling down the hillside, which in hindsight was not likely to happen. But anyway. I should have gotten a later start and let others not only do the trail breaking but also track-out the road for me. Ha, and here I was thinking I'd have the place to myself! Encountered quite a few parties as I was heading back, both on the trail and during my walk-of-shame back down the now snow-free road to where I was parked. Meh, all's well that ends well, right?
Not entirely. Got a flat somewhere before the paved road and spent the next hour or so struggling to extricate the spare from beneath the truck bed. Aha! So that's what the extra long jack handle is for! In any case, I'll have to come back and do this one right. The short approach, being a
2'fer
and reportedly great views would seem to make Cheam (and Lady) worth the hassle.
Click
here
to view.