Rainbow Mountain - SW Route via Rainbow Lake, June 2020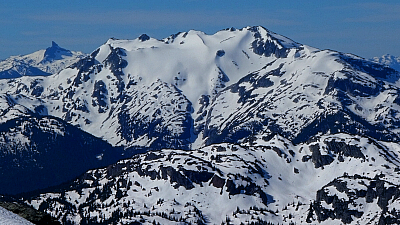 Yup, another escape to the hills before the arrival of yet more unsettled weather. Some excitement right off the bat upon encountering a group of panicked hikers (you know the type) scurrying down the trail claiming to have been followed by a black bear. Kept going and immediately ran into a trail runner who had also been followed by the bear and exhorted us to turn back. This too we ignored and carried on up the trail. As expected, the bear had wandered away, nowhere to be seen. Watching from a safe distance, the trail runner apparently satisfied herself of the imminent threat to life and limb and decided it was now safe enough to continue, prancing past us in short order. The remaining hike to Rainbow Lake went without further incident, the only wildlife we saw no larger or more menacing than a squirrel. Very well-maintained and scenic trail I might add.
Ran into patchy snow just before Rainbow Lake and still very much snowbound thereafter. Annoying post holing getting 'round the lake but otherwise fast travel thanks to buried talus. Made camp on snow and lounged on a large flat rock for the remainder of the afternoon. Up and at 'em first thing in the morning, reaching the edge of a large, flat glacier in good time. Here we traversed far to the right, contouring around a giant scoop in the ice and continuing up to a rocky saddle. Then turned left and scampered up rock and some snow, reaching the summit about 3hrs after leaving camp. The last time we were up here was March '09 on our very first outing with
Whistler Heli
. Nice to finally get back up there on own steam this time and hang out up top for as long as we wanted, savoring the incredible 360-degree views!
Click
here
to view.