Beaujolais & Mystery - via Hope Creek FSR, July 2020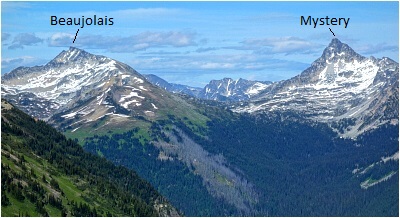 Back up over the Hurley to the headwaters of Birkenhead River and the land of wildflowers, granite, and skeeters. Drove up Hope Creek FSR as far as our tolerance for pinstriping allowed and hoofed the remaining couple kms along with several thousand of our closest mosquito friends to the switchback that marks the trailhead. New(ish) flagging eliminated any guesswork with where to go and we gained the treed saddle from where the normal routes to Beaujolais and Mystery diverge (hereafter B & M). Followed flagging leftwards for B eventually reaching a heather bench which we crossed, contouring below some minor cragginess above. Fairly obvious where to go from here - traverse the flowery meadows!
Unrelenting mozzies kept pushing us upwards in search of a flat spot to camp, which we eventually located at about 6500ft. A passing disturbance resulting in a good couple hours of rain (not sure how I didn't notice this brewing) put the kibosh on climbing B's aesthetic East Ridge on this day. The plan therefore was revised for both B & M the following day, returning from camp the way we came in. Yup, that means an additional 1000 ft on return from M up and over the ridge separating the two mountain basins. Oh joy!
Dispatched B in 1.5 hrs the next morning, thoroughly enjoying the crux slab pitch. Yay, no bugs finally. Then down scree and gravel on the SE side to the pass between B & M and over towards M's west basin. A final grunt up snow and talus saw us to the 7500 ft col on the South Ridge. Turned left and followed the path of least resistance through enjoyable scrambling terrain with relatively moderate exposure to reach M summit. Hung out for about 30 before starting the long trek back down to "Mystery Lake". Then back up the opposite side via an endless heather pitch, traversing left shortly before the crest to reach a high snow and scree slope allowing for a relatively straightforward forward descent back to camp. Packed up and hightailed it out of there for a fine ~12 hr day of alpine rambling. Mosquito misery aside, this is a very scenic area and makes for an enjoyable outing. Highly recommended!
Click
here
to view.