Mount Currie - South Face, September 2020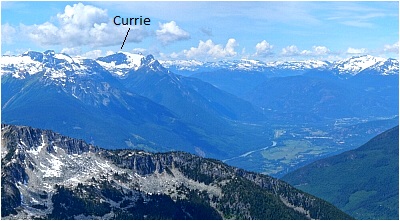 With an impressive 7800+ feet of vertical relief over a scant 5.5 km, Mount Currie towers over the confluence of the Green and Lillooet Rivers where the Village of Pemberton is located. From the imposing North Face rising at the edge of town to the aesthetic glacier cirque at the headwaters of Gravell Creek, one's eyes will inevitably be drawn to gaze upon the peak when approaching Pemberton via three of it's four main arteries - Pemberton Meadows Road, Pemberton Portage Road and Duffey Lake Road. It's also a prominent mountain and easily identified from various spots both near and far, be it Rendezvous Lodge on
Blackcomb Peak
20 km to the south as the crow flies, the significantly more distant Railroad Group to the northwest (
Face Mountain
,
Locomotive Mountain
) or the Joffre Group right across the valley to the northeast (
Mount Matier
,
Mount Joffre
,
Slalok Mountain and Tszil
). Basically, if you spend any amount of time hiking, biking, skiing or simply driving up and down the Sea-to-Sky Corridor, you've noticed Mount Currie.
Far from it being my first sighting, Currie got my attention in a big way back in January 2017 when I had the opportunity to enjoy a ripper day
heli-boarding
her glaciers and those of neighboring Hibachi Ridge. Since then, I hadn't really considered bagging the peak on foot, that is until I got wind of a "new" trail having been sponsored by Pemberton's tourism board in an apparent attempt to attract more tourist dollars. Granted, the trail had been in existence for about 6 years prior to my learning of it, but this was just the nudge I needed to make a go of it. But first I had to endure an epic 7-hour backup just south of Whistler thanks to a serious crash involving a totalled Gallardo and a couple other mangled vehicles. Finally reached my usual "freedom camping" spot off the highway overlooking the Green River at dusk, abandoning any hope of hiking in to camp as I had intended. A 7500-ft day trip it would have to be, I guess!
Got going at first light and finished the short drive over to the "trailhead". Chickened out and parked a kilometer or so shy of where I
should
have and then walked another kilometer more from there along what remains of the road to an abandoned trail kiosk. The trail starts here in earnest, initially climbing up through a cutblock before entering forest and making a long leftwards traverse above a lake. Surprisingly quick going on smooth tread up some 4000-ft, passing another smaller lake and fork (leads to a lookout) to reach an open heather-and-slabs camping area beneath the peak's West Summit. Following intermittent paths and the odd cairn here and there, I made my way up through a small canyon to reach a grassy bench now on the south side of the peak. Turning east, I traversed along the bench for a while before descending a bit to avoid the worst of the talus. The idea here is to aim for the toe of the large Southwest Spur that descends from the summit area, staying low to minimize side hilling on steep grass. Turned up the large talus apron at the base of the spur, following an exposed path up through a grassy gully system to finally reach an immense talus slope spanning the upper South Face. The grind up from there seemed to go on forever but made it to the ridge crest in good time, enjoying the final scramble to the top.
Morning clouds had mostly burned off by then, revealing phenomenal views looking down the Green/Cheakamus River Valley towards Squamish and Lillooet River Valley to Pemberton Meadows and beyond. Fantastic! Lotsa peeps out on the mountain this day, most of whom had started from the camp area that morning. Also, not sure if the winds ever turned favorable for the paraglider I briefly chatted with up there, but boy was I envious! Okay, enough stalling, time to go down...all 7500-ft of knee-knackering DOWN! Which, much to my surprise went far quicker and far less painful than I was expecting. Back at the kiosk in a very satisfactory ~10 hours round-trip, but dammit Sergio for not parking at the trailhead!
Click
here
to view.