Kokanee Glacier - Esmeralda & Conde via Keyhole, September 2020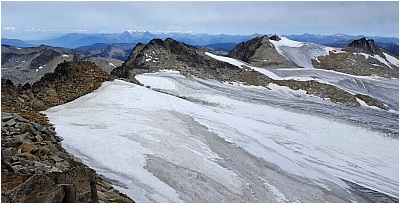 Took a mini vacay and escaped the smoky September skies by escaping to the BC interior. Started out social distancing with the in-laws on
Shuswap Lake
, although we only enjoyed a single day reprieve from the smoke before it caught up with us at the far end of Seymour Arm. Either way, this was probably my 3rd time houseboating the Shuswap. Good fun as always! Parted ways with our boat mates and the pup after about a week of otherwise stellar weather and commenced the second leg of our trip touring through the Kootenays. Sandwiched between the Okanagan to the West and Purcell Mountains to the East, this is an area of southern BC we have previously only scratched the surface of. I was particularly intrigued by the numerous large finger lakes and rugged peaks in between that characterize the geography here. It is as if a giant hand clawed the Earth applying increasing pressure as it pulled back, culminating with the deep gouges and high ridges known collectively as the Columbia Mountains. This is an area of great alpine diversity ranging from the famous granite spires and sprawling glaciers of the Bugaboos (
Bugaboo Spire
&
Pigeon Spire
) and the bocky quartzite ridges of the Rogers Pass Group (
Uto Peak
&
Mount Sir Donald
), to towering gneiss monoliths that drop precipitously into those long, narrow lakes.
We had modest peakbagging ambitions for the remaining week of our trip, complicated in part by crummy weather. Accordingly, Mount Gimli was not to be, but we did manage to sneak up Kokanee Glacier and bag the summits of Esmeralda and Cond for good measure. This is considered one of the southernmost glaciers in Canada, though I think the Border Peaks in the North Cascades for example are more deserving of this title. But anyway. The glacier, after which the provincial park is named, and its highest point, Cond Peak, lies within the Selkirk Mountain Range. Looking to the east one can clearly make out the Purcell Mountains extending north along the east shore of Kootenay Lake. Looking west, the mountains of Valhalla Provincial Park, also in the Selkirks, are easy to make out. To the north lie the remote peaks of Goat Range Provincial Park, while the view to the south into the US of A is primarily forest and low mountains. It is an impressive view from up there and given its location has an "island in the sky" feel to it. The glacier itself is quite large and interesting to explore. Oh, and best of all no smoke!
The unpaved Kokanee Glacier Road leading up to the trailhead is steep and rough in spots and best negotiated with a 4x4 or capable SUV. Starting at the Gibson Lake Trailhead, we hiked the main trail for about 3.5 km before taking the unsigned junction at right onto the Keyhole Trail. This we followed with ease to where the trail officially ends at what appears to be an abandoned mine below a large talus slope. If it was not obvious, a signpost here states "end of trail". The next objective, a notch aptly named The Keyhole is directly above and easy to make out. A tedious grind up talus and large boulders finally saw us to this notch and from where we would first behold a view of Kokanee Glacier. We turned right and completed the short scramble up to the summit of Esmeralda, with me proceeding on my own to tag Cond Peak. All in, it is about 12.5 km round trip to The Keyhole and maybe another couple kms wandering about the glacier and ridges between the peaks. About 7 hrs in total at a moderate
just-spent-a-week-houseboating
pace. The rain returned by afternoon the following day and put the kibosh on any further gallivanting. Our trip was coming to an end anyway, so homeward bound we went, taking the scenic route along Slocan Lake and the cable ferry across Lower Arrow Lake on our way back. Good times on the road
'splorin' new country
and a great send off to a most productive Summer of peakbagging!
Click
here
for Kokanee Glacier photos.