Evans Peak - Evans Peak Trail, October 2020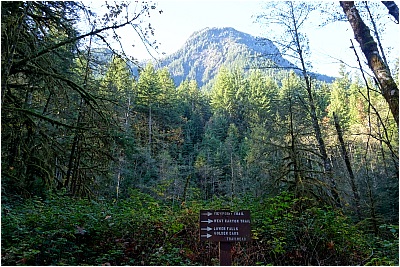 I was flipping through the online table of contents of 105 Hikes by Steven Hui in search of a good shoulder season summit hike. You know, something a relatively short drive away, not too terribly long or time consuming, doable with some snow up high and above all, good views. Basically, the same discovery process I employed for my preceding
Sumas Mountain
hike, except this time without the view-robbing clouds! 3714-ft Evans Peak out in Golden Ears Provincial Park seemed to meet those criteria, and so on a crisp and cloudless October morning I set out to bag this "beast" of a mountain. I had climbed the park's highest and namesake,
North Ear
several years back so I guess it seemed fitting to also stand atop one of lowest named summits in the park. Hoo boy!
Not too much more to say other than it's a steep forested grunt of hike before reaching a series of short rocky steps near the top, which by this time of year was coated in verglass and made for some tricky moves. Good views from the summit of the precipitous east faces of Edge and Blanshard peaks as well as Alouette Lake with
Mount Crickmer
on the opposite side. Usual suspects
Mount Robie Reid
and Mount Judge Howay also on full display to the north. All in all, a worthwhile Autumn jaunt with a unique perspective on familiar peaks!
Click
here
to view.