Slollicum Peak - Slollicum Peak Trail, November 2020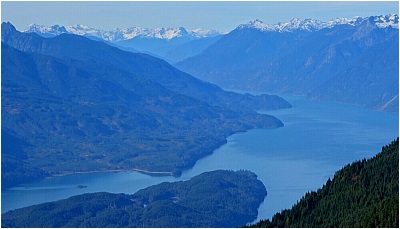 With great Fall weather continuing into November and the expectation that much of the early snow had melted off the lower peaks, we made a dash for Slollicum Peak. Here's yet another that I plucked from the popular local hiking guides boasting a good trail and outstanding views, particularly of Harrison Lake - SWBC's largest. Except for a couple trips to the Chehalis Range, I'd not yet been up on top of anything near this lake. A stroll along the beach at Harrison Hot Springs aside, my only glimpses to this point had been from
Welch
,
Lady
and
Cheam
some ~13 miles away to the southeast. A Harrison-area peak bag was clearly overdue! This is an enjoyable hike, following a relatively well-marked and frequently traveled trail interspersed with sections of forest road. It concludes with a pleasant stroll along an undulating tree-and-heather ridge leading to a small rocky summit.
Overlooking the east shore towards the southern end of Harrison Lake, Slollicum offers a commanding view of said lake as well as the various peaks and mountain ranges that flank it. To the north is the elusive Mount Breakenridge with the remote Mehatl and Stein area ranges beyond it, while Urquhart and The Old Settler rise prominently in the northeast. The Anderson River Group,
Mount Outram
and some other stuff out in Manning Park are visible to the east with
Mount Baker
and the Cheam Range dominating the southern view. Closer in, the Harrison and Fraser Rivers could be seen glistening in the golden Autumn sunshine as was Sumas Mountain sitting there in the middle of the Fraser Valley. Finally, looking west the giants north of Mission District,
Mount Robie Reid
and Judge Howay are easy to make out as are the Chehalis big boys Clark,
Recourse
and Grainger. Fantastic! With so much to feast the eyes on it was difficult to leave!
Click
here
to view.