South Needle - Hydraulic Trail, November 2020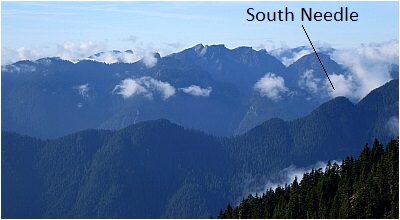 A classic among the North Shore scrambles, the Needles Traverse combines three mostly vegetated summits along the divide separating Lynn Creek and Seymour River. Typically done north-to-south starting from a trailhead far up Seymour Valley, the traverse is a bit of a rite of passage for local baggers. That said, it makes for a big day with a ~9 km bike ride along the Seymour Trailway followed by a steep trail up to just below Coliseum before even embarking on the traverse. Deep, bushy notches separate the three needles followed by steep brushy pitches ascending to and descending from their small rocky summits. For the full value experience, one can continue past South Needle up and over Lynn Peak and the lookout beyond to eventually end up on the gravel road linking the Conservation Reserve and Lynn Headwaters Park. A shorter alternative would be to simply take the Hydraulic Creek Trail after South Needle back down to the trailway. Either way, there's the problem of having to return via the trailway some 4 kms on foot at the very least to retrieve the bike stashed earlier in the day, followed by a 9 km ride back. Um...I'll pass, thanks.
Middle Needle is the highest of the three and all I was really interested in. More importantly, it avoids the above logistical headaches. So, 5 km along the Trailway, then up the Hydraulic Creek Trail to the crest trail coming from Lynn Peak, up'n over South Needle and finally up Middle Needle (and back). Easy peasy, right? Not exactly. The crux of the traverse happens to lie on South's steep north slope, which I would have had to both descend and climb back up upon return. It's a matter of a short cliff with some exposure that in dry summer conditions would go just fine. A fixed handline just out of reach to the left would have facilitated my return nicely as well. The problem was that said cliff was on the shaded aspect with slick, frosted rock and frozen duff and dirt. Getting good purchase was next to impossible. Shoulda brought a scramble rope, but I didn't, and wasn't in the mood for trying my luck. Had a nice long break on top of South instead soaking in the weak November sunshine and remarkably good views!
Click
here
to view.