Sasin/Pretty Peak - NNE Ridge, April 2021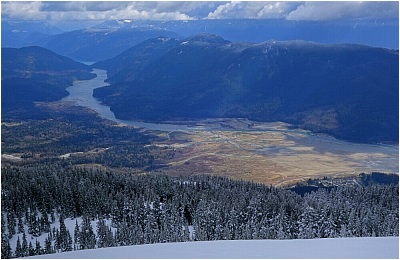 Sasin Peak, also known as Pretty Peak, is a somewhat obscure summit located near the community of Harrison Mills in the Fraser Valley. A report posted last winter to one of the local FB hiking groups I follow piqued my curiosity: good access, reasonable vert and mileage (depending on how high one can drive), ideal in winter or spring, and best of all great views overlooking the Fraser Valley...sign me up! I've not had the best luck with the views on my Fraser Valley hikes lately - Cheam Peak, Sumas Mountain, Vedder Mountain - all socked-in, so I was really looking forward to changing that.
Proceeding up the logging spur off the Chehalis FSR in my truck, I drove as high as I felt comfortable with summer tires and all, stopping at a landing with about an inch of snow on the ground. Continued up the road now on foot, soon running into continuous snow which quickly became deep enough to warrant snowshoes. Up past a switchback, then another long straightaway in the shade before rounding a corner to be greeted by the welcoming warmth of the sun. Kept going until reaching the base of a large clear-cut area on the east side of a broad ridge. Booted up this to reach a line of trees, thinking to myself that this pitch would have made for a nice ski descent with the cold dry powder I found up there at the time. Ducked into the trees atop the cut block and following the occasional shag of flagging made my way up along the ridge.
Fairly easy going now with the occasional steep, snowy step to contend with. Towards the end, the route traverses the peak's east slopes before turning up for a final steep grind up deep powder to the flat summit area. Unfortunately, the scattered clouds from earlier in the morning didn't dissipate as I had hoped, but thankfully remained above the summit of Sasin. While the summits of the higher Cheam Range peaks were obscured, the elusive Fraser Valley views I was ultimately after were not. Great perspective on the Harrison-Fraser confluence and Harrison Mills peninsula, the Chilliwack plains and the Sumas Prairie from up there. Well worth the effort and a bit of a hidden gem, especially on a cold, late-winter day with a deep snowpack!
Click
here
to view.