Mount Seton - South Face via Saddlebag Lakes, August 2020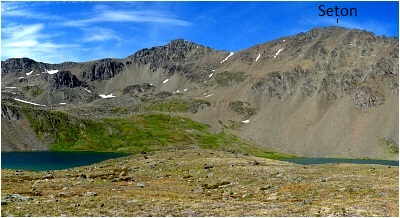 A taste of the San Juans of CO right here in SWBC, complete with the endless scree treadmill and top shelf views! I'm speaking of course of Mount Seton - the highest peak in all of the Cayoosh Range. At 9380 feet, the rounded summit rises above most everything in the vicinity, Mount Brew and Whitecap Mountain excepted. The peak sits smack dab in the middle of the hydrological crescent formed by Anderson and Seton Lake, making for a unique position and of course the views to go with it. With the glaciated crest of peaks to the south and west, to the dry and bare mountains to the north and east, the contrast in scenery is apparent. Oh, and is that the elusive Skihist Mountain peeking off in the distance? The highest in SWBC, this was the first time I positively identified the peak from the summit of another. One of these days... One could spend hours up on the summit gawking at all the sights both near and far.
The approach to the picturesque basin cradling Saddlebag Lakes is relatively quick and easy thanks to recent trail work by the good people of Lillooet (you didn't hear it from me). The azure-colored lakes lie directly beneath the peak's towering South Face and just beckon for a swim, were it not of course for the swarms of mosquitos awaiting anyone who dares to get too close. Like nearby Statimcets Peak, the lakes basin is very reminiscent of the CO Rockies with its high-altitude plateaus and rubbly shale slopes descending from the peaks towering above. And speaking of, if it were up to me, I think Seton should replace
Statimcets
in the SSWBC guide. After all, they share the same FSR approach, the views from Seton are better and approach scenery is more or less the same. Oh, and did I mention that it's the highest in all the Cayoosh? Certainly, both are plagued by the same heinous two-steps-forward-one-step-back scree slopes guarding the summit ridges, so why not make the effort count? All in, it's about 7 or so hours round-trip for a most satisfying day of alpine tramping!
Click
here
to view.