Ipsoot Mountain - West Route via Rutherford Creek FSR, June 2021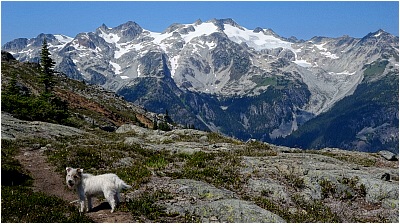 Ipsoot Mountain is a sprawling massif located north of the Rutherford Creek Valley, west of Highway 99 between Whistler and Pemberton. I've longingly gazed upon it so many times over the years, be it from the slopes at Whistler-Blackcomb or countless summits along the Sea-to-Sky Corridor and beyond. During a 2015 heli-ski trip I got the chance to shred a long, low angled pitch of wind-buffed pow from a sub summit at its western periphery before moving on for better snow elsewhere. Ever since that time, I toyed with the idea of bagging the actual summit on foot, but was put off by reports of heinous brush, and long and arduous approaches. All that changed come Spring '21 after reports surfaced on social media suggesting that the peak made for a reasonable day trip thanks to new logging roads having been cut high on its western flank. That's all the nudge I needed to get after it!
Up at zero dark thirty on a warm June morning, driving a short distance past Whistler and taking a left on the well-maintained Rutherford Creek FSR. First time up this way for me and stoked on discovering a new backcountry access route. I eventually left the main road and turned up branch 550 for a steep water bar ridden crawl to a landing at road's end just below the highest cutblock. So far so good and all tires intact! Now on foot, I continued into the forest above and then proceeded up and slightly left to intersect a prominent landslide scar visible on satellite images. Some tediousness over loose gravel and steep boilerplate here, but the scar facilitated for a good ~1500ft of brush-free travel up the west slope before abruptly ending at a cliffy impasse. This I passed by exiting stage right, taking to the trees again for a short traverse before turning back up to gain the toe of Ipsoot's West Spur. It had taken only a little over an hour to get here, and best of all the worst was now behind me!
Now on snow, I continued up and over a few sparsely treed rolls before reaching a point where the rest of the route up the spur was laid out before me. The objective was clear - aim for a minor ridge extending south from the rocky prominence directly ahead. Crossed over this ridge and followed a wide bench now on Ipsoot's south side before turning left and plodding up an aesthetic snow arete descending from the icecap. Big terrain here now as I turned right and traversed the icy expanse for a long slog towards the true summit at its east end. Zigzagged up the final headwall then did some boulder hopping ending with a short, steep snow pitch leading directly to the glorious summit. Holy moly, what a magnificent perch! With the mighty Rhododendron there close at hand, the nearby Pemberton Icefield and more distant Lillooet Icefield, the valleys of Whistler and Pemberton far below and all that lies above as far south as the Tantalus Range and beyond - all on full display! To summarize, a BIG mountain with even bigger views and averaging around 7 hours round-trip, a surprisingly not-so-big day!
Click
here
to view.