Mount Lindeman - North Route via Center Creek FSR, June 2021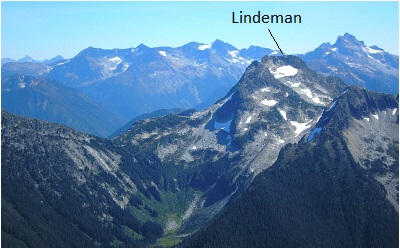 As any avid peak bagger in these parts knows, forest roads amount to essential infrastructure critical to the pursuit of our favorite pastime. Without active logging operations keeping the roads drivable, it's only a matter of time before they fall into disuse and are reclaimed by nature. Further deterioration caused by an increasing number of extreme weather events certainly doesn't help, and serves to remind us how fleeting this "infrastructure" can be. And so, motivated by reports of recent trail maintenance courtesy of the Chilliwack Outdoor Club, I jumped on the chance to tag Mount Lindeman. No time like the present given the FSR is (was?) still drivable, and the brush temporarily subdued!
Not my first time in the general area, having scrambled nearby MacDonald Peak the previous summer. MacDonald (and adjacent Webb) are popular local objectives given their inclusion in SSWBC and good trail access from the Chilliwack Lake Provincial Park day-use parking area. Popularity aside, Lindeman is the highest and southernmost peak on the Center Creek-Chilliwack Lake Divide where both Mac'D and Webb are also found. Knowing this, it should come as no surprise that the views from Lindeman are considerably better than those from either of the others. The summit is about a mile as the crow flies from the US border, south of which an unobstructed panorama of familiar (to me) peaks and glaciers in the North Cascades National Park and beyond are be beheld! Won't rattle them all off this time - photos speak for themselves.
Straightforward navigation as far as approaches go starting from the current parking area at a large washout (passable to ATVs). Just follow the deactivated FSR up the valley for several km's to its end, then turn left up a worn path steeply through forest to reach a meadow in the hanging basin below Lindeman's north cirque. Up an obvious gully at right side of the headwall to reach the alpine bowl above, after which it's an easy cruise to the stunning west col. Then finally, up and right across the West Face aiming for the spot where the South Ridge pitches down and meets heather and rock slopes. Just a short scramble from there up along the ridge to summit proper. A point further north on the summit ridge seemed slightly higher (it apparently isn't), so I went over to check it out. Turns out that it is guarded by a very exposed notch that likely requires technical climbing to get in and back out of. Not today, or ever, so back to the true summit where I enjoyed a snack with a killer view! Around 8 - 9 hours round trip at an average pace and my customarily short(ish) summit stay.
Click
here
to view.