Stewart & Baby Munday (North) - via Airplane Creek FSR, September 2021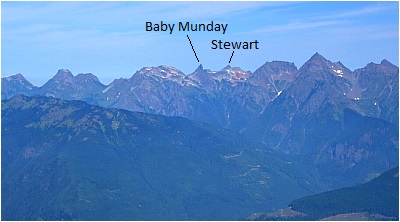 Plowing through the backlog here, made it to September! Ahh, no better time of the summer for peakbagging IMO. Crisp mornings, warm afternoons, vibrant colors, sun angle conducive to great photos, stable weather (usually) and most importantly no bugs! Anyway, there's been a few reports from here in recent times, so I'll keep the prose to a minimum and just add a couple observations of my own:
Airplane creek FSR -
dern
rough initially, until reaching the infamous water bar that stops more than its fair share of drivers. Probably passable in a stock 4x4 such as mine with some well-timed maneuvering, but I lacked a spotter and didn't want to try my luck. Its only about 3 km from there, so I parked and hoofed it to the trailhead. Ugh! FSR is in great shape from that point onwards, with just a short stretch that's been eroded on one side but shouldn't pose a problem for competent drivers. There's a fork after the water bar that isn't mentioned in SSWBC - stay right here! All in all, less sustained, not as loose, and notably better than the horrible road up to Williamson Lake Trailhead as far as I'm concerned. Note that since the November '21 floods conditions are likely to be much worse!
Baby Munday Trail - a bit overgrown on the initial stretch before the descent to Airplane Creek, although tame by local standards, avoid when wet or dew is present. Trail up to alpine below Baby Munday is a piece of work. Rooty, rocky, slippery, and steep as f#*k! Didn't notice so much on the way up, but OH MY was the down tedious. Trail forks just above tree line with the uphill/left fork presumably heading towards Knight. I went right traversing meadows and such following a path with some flagging heading for the basin between BM & Stewart. Scenic alpine basin up there with what looks to be a glacial remnant tucked away beneath Stewart and The Still. Headed up to an obvious saddle looker's right of Stewart, then scrambled broken rock to the summit. Descended the way I came and then headed for BM's north summit, because it's a 15-minute detour and there's probably zero chance of me coming back up here anytime soon. Views are outstanding though! Passed on Knight as all the talus hopping to get there didn't look all that appealing, and I had reached my turnaround time. 2 outta 3 ain't too bad, but no Peakbagger's Choice award for me on this day! 4 hrs to Stewart from where I parked and about 9.5 total. Neat zone to explore, right in the middle of the Cheam Range, but I gotta say that unless the roads are repaired soon, I regret to say that we're approaching the twilight years of favorable access to the core peaks here.
Click
here
to view.