Snass Mountain - West Ridge, September 2021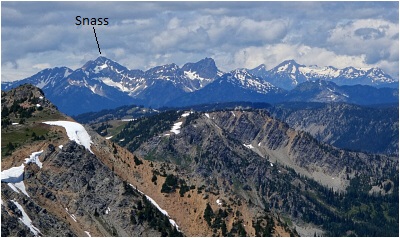 Along with Mount Outram and about 13.5 km directly to its east, Snass Mountain is one of the bigger objectives in Manning Park. Approached from the south, the normal West Ridge route benefits from a paved highway to the trailhead followed by a good trail, albeit a somewhat long-ish one to a small pass overlooking Punch Bowl Lake. The peak also lies east of the Cascade Crest giving it a somewhat extended snow-free hiking season as compared to objectives further west. At least this strategy worked for me when I climbed Outram in October a few years back, so I'm sticking to it!
With just one other car parked at the trailhead, I started up the historic Dewdney Trail and continued up a forested valley for a couple kms to a junction with the Whatcom Trail. Staying right and proceeding up this other trail, I continued without issue to the pass. Leaving the main trail here, I followed a path branching off to the right now on the north side of the lower West Ridge of Snass. I followed this to where it petered-out in the heather, which on this day was still soaking wet from the previous night's rain. I also came across a backpack lying on the ground at this spot, and rightly assumed that a Snass-bound individual had abandoned it here en route to the summit. It was also at this point that I had a decision to make - proceed steeply up wet heather on the lower flanks of the West Ridge OR traverse left below the ridge for a while longer and gain a large talus bowl that provides access to the ridge crest higher up. I went with the first option, literally crawling up the steep slope pulling on clumps of heather to keep me from slipping and sliding uncontrollably back down to the pass. As wet as it was, it might as well have been ice and I didn't have crampons with me, plus I had a small dog in tow to boot. Going up was certainly doable, but I was concerned about the return. There was just no way to walk down that shit! Decided to do a test "glissade" before I got any higher to get a sense of how the descent would go. Managed a short and marginally controlled butt slide back to the area where the pack was. Returning in that fashion from the top would be treacherous at best!
Time for plan 'B'. Off for the talus bowl I go, losing some elevation at first and then up a headwall comprised of hard mud, scree and such. Quite unpleasant and brave little Pepper was less than thrilled with this part. Much easier travel once in the bowl proper, soon gaining a prominent saddle in the ridge. Pleasant ridge ramble from that point on with just a couple spots of hands-on scrambling (with pup in arm). Soon ran into the owner of said pack Andriy (aka Sergei) Fendrikov (RIP) as he was returning from the summit. Chatted for a bit, confirming that it was in fact his pack that I had seen earlier and that he'd spent the previous night camping at Punch Bowl Lake. Also mentioned how greasy the heather was down below, but regrettably stopped short of asking him how he intended to return before going our separate ways. Soon made it to the top, complete with heli platform and the ubiquitous BC summit phallus. Mostly in the clouds up there with occasional local clearing. Hung out for a bit hoping for more of a view which sadly never materialized, then returned the way I came back to the backpack, which ominously was still there where I had seen it earlier in the day. Called out for Andriy a few times but heard nothing back. Figured (hoped) he was off to bag something else in the area and possibly stay another night out?? Made my way back down to the trailhead where, as expected the one car from earlier in the morning was still parked. About 8 or 9 hours round-trip.
It wasn't until about mid-morning the following day that word of Andriy's absence at work began circulating on social media. He apparently also hadn't left a trip plan with anyone, and SAR efforts were being mobilized in areas 200+ kms away from where I'd seen him last. After several phone calls with the authorities and some hours later, the tragic news of Andriy's whereabouts was made public. Confirmed it was now a recovery effort as he had been located lifeless somewhere below the West Ridge. Not sure of the details here, but my mind keeps going back to how greasy that heather was. Didn't see any fresh tracks in the mud or elsewhere leading to or back from the talus bowl, so can only surmise that he'd taken the ridge up and back down to its end and in so doing had to navigate the sketchy heather. The thought of what may have happened next still sickens me. We may have just been ships that pass in the night, but I'm honored to have had just a few moments of your company. Rest in peace Andriy.
Click
here
to view.