Unnecessary Mountain - via Lions Bay, October 2021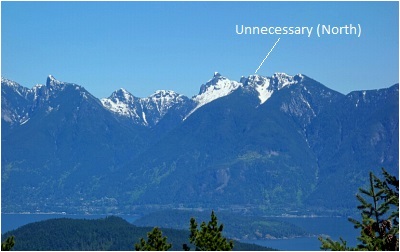 This is a peak I've left for when I can't think of anything else better to do. Ya know, one of those close-to-home, marginal weather, shoulder season kinda objectives. It's also one that I've attempted twice previously, first on my January birthday via Saint Marks only to be stymied by dust-on-ice conditions on the descent to the intervening saddle. Without crampons or an ice axe to stop an uncontrolled slide, I called it up on Saint Marks and wandered about the summit area finally ticking off the somewhat obscure "true" summit and savoring the excellent views from the usual lookout spots. For my next attempt, I set out the following Spring via the steep but shorter trail from Lions Bay. Here again, challenging breakable crust snow conditions significantly slowed my progress and made for a somewhat treacherous hike back down from my turnaround point. Then finally, back at it again in October, once more via Lions Bay for the win!
As stated, it's a steep but good trail that leads directly to the summit of North Unnecessary, complete with some fun scrambly steps mixed in there for good measure. Low clouds and fog meant views were non-existent from the summit, but thankfully just below the cloud ceiling the usual Howe Sound view revealed itself to me. Slightly higher South Unnecessary was just a stone's throw away but going there clearly offered no better views than from the north peak and so I didn't bother. Encountered just one other soul hiking up shortly after commencing my descent, otherwise just me and my thoughts in the fog up there. Good to finally tick this one off the list!
Click
here
to view.