Alouette Mountain - Alouette Mtn. Trail, November 2021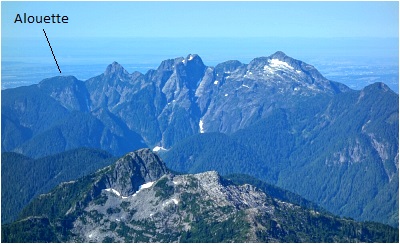 With a good dusting now at the higher elevations and ski season just around the corner, I made my way back to Golden Ears Provincial Park for one of my final sub-snowline hikes of the season. Like with Evans Peak, Alouette Mountain offers a good workout, suitable for the shorter days of Fall albeit with better views overlooking much of the Lower Mainland. Granted, the view is nothing like that from Golden Ears (North Ear) proper, but that was a whopping 16 years ago now and much has changed down there in there in the flatlands during that time!
The approach is the same as that for Evans, just take the signed fork to the left for Alouette and follow the marked trail up to the summit plateau with commemorative cairn with plaque thing there on the highest point. Just one other soul hiking up there on this day - a day where rain was forecasted to move in later that afternoon, so best to move quickly and not linger for too long! Wandered around the summit area for a bit, searching for the best photo ops overlooking the urbanized expanse spread out below. Great views also to the north of Robie Reid, Judge Howay and co. Interesting perspective on Alouette Lake, one of the prettier "front range" bodies of water in my opinion. Then of course there's the Golden Ears massif itself, its neighbor Edge Peak and the striking rock thumb of Blanshard Needle. There's an interesting route up that one, with a short 5th-class pitch followed by some fun scrambling - might have to come back for that someday. But not today, 'coz the rain she's a comin'! A satisfying outing with decent views, the first drops holding off just long enough for me to reach the car!
Click
here
to view.