Anif Peak - via Ray Creek, February 2022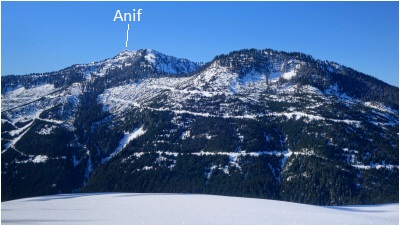 A relatively popular ski and snowshoe objective in the near backcountry of Squamish, Anif Peak is a good choice for those seeking a winter summit with excellent views but without the need for driving very far. Clocking in at about 16 km round trip and ~4000 ft of gain, depending on where one parks, the route is mostly a FSR hike followed by a series of steep steps up from a col to reach a short but aesthetic quasi snow arete for the finish. Approached via a rough road that branches right off Mamquam FSR about 3 km past the signed Stawamus FSR junction, the crux of the outing seems to be how high one can drive before being stopped by snow. For me, this happened shortly after the very first switchback, a scant four tenths of a kilometer from the main road.
It is a rather uninteresting plod until reaching a large clearcut area on the broad NW Slopes of Mount Mulligan and from where an unexpectedly expansive vista of the Squamish Valley and peaks to the west and north comes into view. From here it's just a short walk to the headwaters of Ray Creek, where the road finally ends. From there, a short steep pitch leads up a headwall to reach the Mulligan-Anif Col. Mulligan bound parties will want to turn left here, but as I had no interest in its lower treed summit, I turned right towards Anif instead. As mentioned, a series of steep steps punctuate Anif's lower NE ridge, ending finally at a sharp crest with the true summit at its southern end. A gaggle of hikers was already up there as I crested the ridge and so waited for them to vacate the area before proceeding to the highpoint. Pretty darn good views for such an otherwise lowly peak! Great perspective on the Mountain Lake area and Sky Pilot Group to the south, Sedgewick and the Tantalus Range to the west, northwest up the Squamish Valley with icefields and peaks on the Ashlu-Squamish Divide beyond, Garibaldi and Mamquam to the northeast, and finally the Seed Peak Group and Meslilloet to the east and southeast. Reasonable stats, fun finish, great views, short drive - can't ask for much more!
Click
here
to view.