Alpen Mountain - West Route via Mamquam FSR, February 2022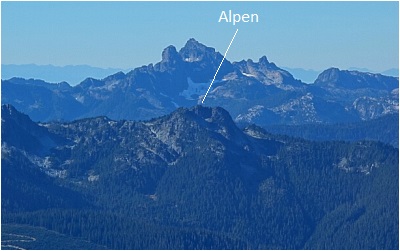 Across the valley traversed by Raffuse Creek and just under 5 kilometers as the crow flies east of the recently bagged by yours truly, Anif Peak, lies Alpen Mountain. Same as Anif, getting there requires driving up Mamquam FSR an additional ~3 km to a spur. The similarities do not end there, being that both are popular Squamish-area winter objectives with comparable KMs and vert, and feature the same monotonous snow-covered FSR walk for most of the approach. Both routes are also finished with a short but aesthetic summit ridge from where similar views are to be had. Not exactly a ringing endorsement, but as a relatively "safe" objective not too far from civilization, it fit the bill for this solo peakbagger looking to capitalize on a sunny late February day.
Parked about 3.5 KM up the "Raffuse" FSR after which icy conditions made driving any further foolish. Commence the boring plod, soon reaching continuous snow for the remainder of the way to eventually reach semi-open terrain beneath a subsummit west of Alpen proper. Some apparently proceed up and over this subsummit, whereas I found it more efficient to traverse below it and in short order into Alpen's West Bowl. Crossed the bowl to reach the relative security of trees on the right skyline, then zigzagged up the West Face, kicking steps in steep snow overlying rock slabs shortly below the summit. Having reached a shallow saddle in the ridge, I grabbed my ice axe and turned right for a short but fun walk over to the summit proper. Stellar 360-degree views of deep valleys, striking peaks and glaciers near and far! Many familiar names, many more unknown to me - a stunning mountainscape pregnant with possibilities! All in, maybe 15 km and 6 to 7 hours round-trip, making for a very manageable and worthwhile day in the 'Squampton' backwoods!
Click
here
to view.