Decker Mountain - East Ridge via Decker Glacier, March 2022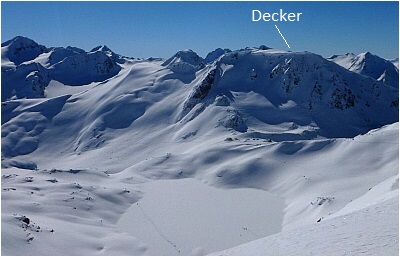 Third time touring Decker zone but first time on tippy top. As with Blackcomb Peak, The Spearhead and arguably Phalanx Mountain, this is low hanging fruit for the WB slackcountry set. Across Blackcomb Glacier, up 'n over East Col and up Decker Glacier, this is a local classic that unsurprisingly sees a lot of traffic. Expect outstanding views, a variety of ski descent options/variations and generally casual vibe.
Following in the footsteps of my previous tour, I skinned up to near a prominent notch in the East Ridge, ditched my gear and completed the ascent on foot. A better option appears to be to contour around a prominence an the end of the East Ridge then traverse the south slopes to the summit. Either way, it makes for a fine outing with outstanding views and never too far away from civilization. Wind hammered snow aside, this is a classic ski tour. Oh, and speaking of snow conditions, consider giving a late afternoon return via the refrozen mank in Body Bag Bowl a miss and instead head back up 'n over East Col and ski the groomed down Glacier Road. As always, no better way to wind 'er down than apres at Dublin Gate. Love that place!
Click
here
to view.