Slalok Mountain - Matier/Stonecrop Glacier touring, April 2022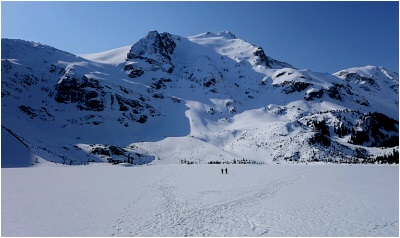 The lower of the three giants ringing the Matier Glacier icecap, Slalok Mountain is a trophy objective overlooking the incredibly scenic and deservedly popular Joffre Lakes Provincial Park. I'd already bagged both Matier and Joffre and retreated from Slalok's West Ridge/Face route on a previous attempt; a rematch was all but a certainty. Attempt aside, I had my eye on this as a ski tour/descent for a while now after being inspired by a post on TAY several years back of a party slaying bottomless pow down the North Face AKA Stonecrop Glacier. Bryant (and friend) were of a similar opinion, and so off for the iconic Slalok we go!
Mobilized shortly after sunup the next morning following a chilly night of car camping. Made good time to the upper lake where we stopped for a bite and powered up for what came next. The route ahead was clearly laid out, a couple parties having set the skin track up the slope on the opposite side of the lake. Gained a prominent ramp at the lower edge of the face proper, then followed that up and left onto the Matier Glacier. Could see parties on Matier's NE Face route, the apron below Joffre's Aussie Coulior as well as the West Face of Spetch. Quite the alpine playground up here! Turned right aiming for the North Ridge, with somewhat steep traversing towards the end and some cornice hazard overhead. Another break once on the ridge before continuing up and contouring right towards the summit block. Out with the axes and crampons for a short pitch of rime ice to the top and just in time for the clouds to steal our views.
The twosome ahead of us had just set first tracks down the face and per the order of our arrival - a couple parties had caught up to us on the summit - I was to be the third. So very considerate! A careful turn or two down the first steep pitch to spot my line, and then let it rip, managing my sluff by working skiers right across the face. Epic snow, epic pitch and turns-for-days days until reaching the top of the large gully skiers right, exiting onto the slope above the lake for the finale. Conditions are everything and, on this day, they were ALL TIME! Made it to the lake before anyone else dropped in and enjoyed my own live action movie watching a mob descend the face! A round of high fives at the lake and then back to the parking lot in no time with only a brief scootch and a couple short carries to break the flow. As a "road shot" this is about as good as it gets!
Click
here
to view.