Harris Ridge and Nea Peak - via Taylor Creek FSR, July 2022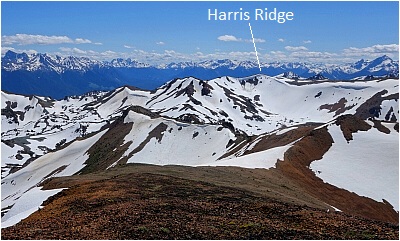 Dickson excepted this was an entirely new area for me; that, and I was in search of a venue with somewhat less snow than points further west. Drove up the night before and car camped at the Mowson Pond Recreation Site, which is well maintained and free of charge courtesy of BC Hydro. A passing thunderstorm added some excitement late that afternoon and made for a nice sunset. Pretty sweet spot for a basecamp I gotta say!
Continued up Tyaughton Lake Road the following morning parking at the second to last fork mentioned in SSWBC as far as I can tell. Bit overgrown in spots, so not very paint friendly. Brought a mountain bike to help dispatch the many kilometers of FSR, especially beyond the washed-out bridge. Made blind guesses at a couple junctions, hoping I would eventually find my way up Taylor Creek Valley. After a good hour of pedaling up a perfectly drivable road, I came upon a creek crossing where a bridge once was, confirming that I was on course. So far so good, the only exception being that I now had to ford this creek in a strong current of thigh-high water. Short but challenging ford barefoot and with bike in arm, didn't look forward to repeating on return. But that was a problem for later, so off I went! Continued up with some bits of hike-a-bike to about 10-15 min shy of the cabin up there as snow patches were becoming more frequent. Mix of travel on snow and scree/dirt gaining the ridge well above the pass and right below Harris false summit. Short but steep snow pitch right at end necessitated axe and crampons but as I discovered later can be avoided by taking to the basin at lookers right, likely left as well. Totally different geology and scenery out here in the South Chilcotins and well worth the visit! Dickson, Sloan, Truax and Shulaps were all hard to ignore from up there. Only one of them left as of this writing, so I guess I gotta go finish that one off next time I'm in the area!
Still had time after bagging Harris, so descended to the pass proper and continued up other side to tag higher Nea. Better views than from Harris and a great add-on without making for a particularly strenuous day! Then back down to where I stashed the bike for a ripper and very wet return to truck. 7ish hours RT. Bypass the one steeper bit and get by with just poles. Fine day out with grand views!
Click
here
to view.