Zupjok, Llama & Alpaca - via Zopkios Rest Area, July 2022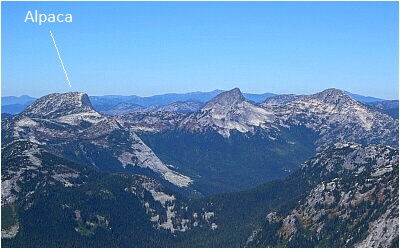 This trio of peaks is served by a good trail starting from the Zopkios Rest Area at Coquihalla Pass. The route features travel over granite ridges with great views of rock domes and spires these mountains are known for. Being in the midst of a heat wave, I drove up the night before and car camped nearby so as to get an early start. I also brought a bike to expedite the initial approach which follows a mostly flat forest road to the saddle between Ottomite and Zupjok. Ditching the bike at the saddle, I continued up the trail, initially relatively flat but then quite steep gaining the south shoulder of Zupjok Peak. Passed a twosome on the way up here, complementing the gentleman in front on his choice of Red Wing footwear (aka. Vasque). I continued over the first peak and down to the saddle south of Llama, then climbing up over Llama and descending once more to the final saddle below Alpaca Peak.
Aesthetic granite "sidewalk in the sky" going up Alpaca where the broad summit dome offered up fine views of Vicuna & Guanaco to the east and the iconic Anderson River Group - Gamuza, Steinbok, Ibex and Chamois - to the west! Nice views south towards Markhor-Needle area and Coquihalla Mountain Group as well. Didn't linger for long as it was already starting to cook out and water sources were in short supply. Back across the various saddles and summits, then down the steep forest back to the bike. Stopped to enjoy the solitude and cool off where a collapsed bridge crosses the creek before the short ride back to the car and where it must have been 90+ degrees out already. Delicious burger courtesy of the Lunch Bucket there at the rest area and washed down with a tepid can of Cariboo. Cheers!
Click
here
to view.