Mount Sheer (& Ben More) - Southwest Ridge, August 2022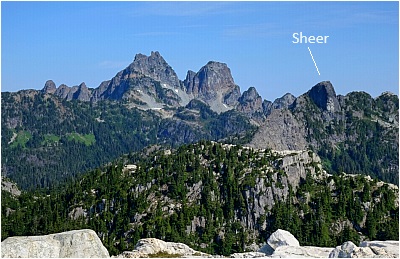 Spent a couple days in the Mountain Lake area, long a place I've wanted to visit, camp at hut, bag peaks etc. Relatively close to home, drive wise, but definitely a sense of being out there. So cool to have this in the "backyard"!
First overnighter for me in ages. No key to ulock gate, so took bike but with the added weight on my shoulders and steepness, it wasn't till about the 5.5 km mark where it wasn't constant on again off again hike-a-bike. Some confusion with the FSR junctions after the 3-way there with the Beth Lake fork, but common sense prevailed and I got to the trailhead after a good 2.5 hrs of sweating. Trail is easy to follow and seems to have been maintained recently, bit overgrown here and there but pretty good all things considered. Hot ass grunt up the south facing switchbacks before reaching the granite and lakes wonderland up there. 6 sweaty hours to hut, whereupon the first bugs of the day were encountered. Note that it had rained the night before, so bugs were still a bit subdued for the time being at least.
Chatted with a group of teens there at hut before dumping gear and heading off for Sheer. Took "high" route there an low route back, lotsa route finding and some exposure. Neat little scramble once on route! About 1:15 to summit from hut. Pretty damn buggy after returning to hut and for the rest of my time up on the plateau. Had designs on Ben Lomond the following day, but ended up on Ben More after dropping gear at Wind Lake instead. Got to the first talus bowl, said f'k that and figured it be better to get up on the ridge and follow that to BL. Did that and got a good look at all the ups n' downs in the way and said meh, not necessary, plus the bugs were starting to get to me. A Ben is better than no Ben's I say.
Back to bike and 30 mins later back to cold beer at car. Those were some smokin' brake rotors I tell ya!
Click
here
to view.