Mount Penrose - South Ridge, August 2022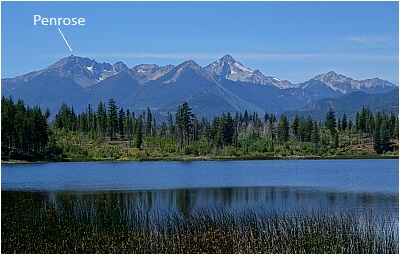 A wee bit tardy in posting this one up, as all my TRs have been lately, but considering there's not a lot of info out there for Penrose perhaps others can benefit from the info. Firstly, be forewarned that conditions are likely to be very different at time of my writing this thanks to the Downton Lake wildfire that continues to ravage the community of Goldbridge. The blaze originated on the peak's south flank and most likely spread across the east slopes where the trail is (was?) located before engulfing the area around Gun Lake and beyond. I was in the area twice over a span of a about a month in Summer 2023, and both times noted a smallish fire burning near the peak. Major hydro investments in the area and abundant water sources to boot, not to mention nearby homes; surely "they" would have put it out, before, you know, it grew out of control. But anyway...
Drove up the eve prior, spending the night at the free rec site towards end of Carpenter Lake about 10kms from Goldbridge. Had more ambitious plans for the following day, with this as a backup just in case. Weather seemed questionable in the AM, so I reluctantly defaulted to "just in case" and made my up towards Gun Lake. FSR in decent shape, make sure to hang a right at the fork (you'll know the one when you come upon it). A short rough-ish bit and waterbar could complicate matters for some SUVs, but it's not long after before the hairpin where the TH is located (~0.5 km).
Trail is well established and easy to follow, albeit steep to the ridge crest where the solar panel/comms "thing" is located. Route up the SE Ridge appears steeper than it is, mostly class 2 and loose in spots. Views are fantastic, particularly of Downton Lake with Mount Ethelweard looming just beyond..very tempting! Arguably better views a than from its higher neighbor Dickson, a mere 3 kms to the NW. Some light snowfall up top before it cleared up in the afternoon. 7 hours round-trip at an average pace and ~1 hr lounging on summit. Great consolation prize on its own or a good add-on for those seeking to fill a weekend after tacking more ambitious objectives the day prior.
Click
here
to view.