Markhor-Needle-Flatiron Traverse - East-to-West, September 2022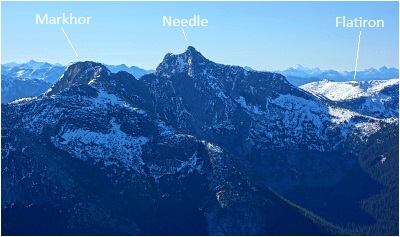 Teamed up with Kevin on this for a stellar albeit somewhat chilly September day. Having previously climbed Needle Peak via the standard West Ridge scrambles route, I felt the need to go back for more of that glorious granite this time on the classic Markhor-Needle Traverse! More climbing, more exposure, and lots more fun, and all with a very reasonable approach! Not sure what took me so long.
With the normal trailhead blocked by the ongoing pipeline construction, we decided to simply follow the Needle Peak Trail for a bit before traversing cross-country to intersect the Markhor "trail". It's just a faint track with some flagging here and there, and it wasn't long before we popped out of the trees shortly below Markhor's North Ridge. Bumped into a couple others Kevin knew from the SWBC FB group here and leapfrogged each other for the rest of the climb. Easy scrambling up onto Markhor after which we poked around in search of where to start the South Face descent. Finally located the shallow dihedral with rappel station we'd read about and started flaking the rope while Kevin opted to just down-climb. Somewhat kitty litter rock here made worse by worn-out outsoles; I was happy to have rapped this, even if the 30m rope was a bit short. Then an easy hike up from the saddle to Peak 1933 with the "crux" coming next on the short descent to the notch between this and Peak 1945. It all amounts to an exposed downclimb on a fin of rock - not difficult, but thought-provoking, nonetheless. Then up 1945 with a low 5th move or two before reaching the large saddle below Needle's North Ridge. It looks steep and improbable from here, but it's just a scramble with only moderate exposure. Made it to the summit shortly thereafter enjoying the fine views and life-giving sunshine!
The other two took off after a bit of chatting with plans to hike back down to the highway and run up Yak Peak on the other side of the valley. Impressive! Not wanting to be totally outdone, Kevin and I decided to tack on The Flatiron on our way down, being that it's only a short detour and we had plenty of day left. Down the West Ridge, climbing through the usual scrambly bits before reaching the meadow where the trail forks right back to the trailhead and left to Flatiron. Went left, passing a small lake after a kilometer or so before completing the final ascent to the large Flatiron summit plateau. Great autumn colors and afternoon lighting made for excellent views and a rewarding finish to a very satisfying day of alpine rambling!
Click
here
to view.