Mount Brew - Roe Creek Trail, October 2022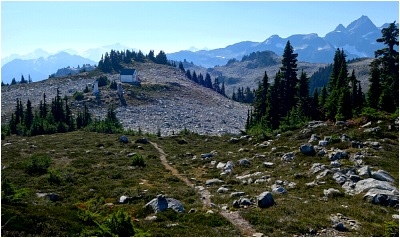 There are a couple of peaks named Mount Brew in SWBC, the more conspicuous one located near the town of Lillooet. This is not that one. This Brew is the subalpine bump located near Whistler, BC nestled among a group of peaks known for their adult beverage-inspired names: Gin, Tonic, Brew, Keg and Brandywine. It is commonly the final summit bagged on the increasingly popular "Alcoholic Traverse", which links most of these peaks in a U-shaped trek overlooking the headwaters of Brandywine Creek. The summit is a short jaunt from the aptly named Brew Hut, a popular destination in summer and in winter as an overnight stay for ski tourers. With unseasonably warm and dry weather stretching into October this year, I drove to the Roe Creek FSR washout and set out on foot for a mellow day hike to explore Brew and its surroundings.
I debated driving through the washout as it didn't look too bad, but glad I parked where I did as the water bars beyond were quite large and seemed to require a departure angle greater than what my truck has. Either way, it's only about 2 kilometers to the barricaded R200 spur that leads up to the Roe Creek Trailhead. Trail starts through an old cut block and then heads into the trees before reaching meadows and finally Brew Lake in about 4.5 kilometers. Turned left up the trail towards a wide talus bowl containing another smaller lake. Then up to a saddle at right reaching the Brew Hut a short distance beyond, about 2 km from Brew Lake. Summit of Brew is under a half kilometer as the crow flies from here and a logical choice for those seeking to bag a peak while in the area. A bit of jungle gym action through the dense evergreens lower down followed by a short walk to the summit proper. Enjoyed superb autumnal views both near and far - Mount Fee to the northwest, north to Brandywine and Rainbow, northeast to Currie and Weart, west to Cypress and Tricouni, southeast to Black Tusk, Castle Towers, and the glaciers beyond. Marvelous! Higher Keg Peak is nearby and makes for an easy add-on before heading back.
Bottom line, Brew and/or Keg are fine Autumn objectives without the need for driving very far or having to put in much work in getting there. Low effort: High reward as they say!
Click
here
to view.